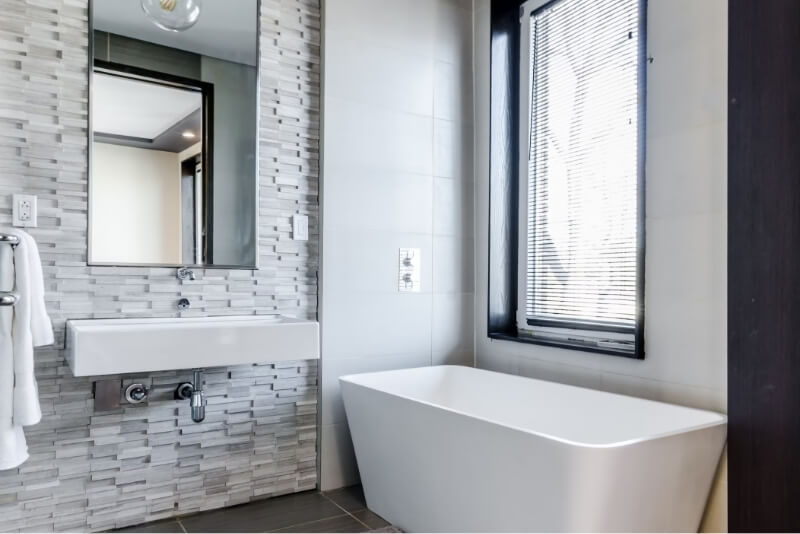 Are you planning a bathroom remodel? Whether you're looking to update your outdated bathroom or create your dream spa-like oasis, there are endless bathroom remodel ideas to choose from. From small changes like updating fixtures and paint to larger renovations like reconfiguring the layout and adding new features, there are plenty of ways to transform your bathroom. Here are 10 inspiring bathroom remodel ideas to help you get started.
Add a freestanding tub
Freestanding tubs are a luxurious addition to any bathroom. Not only do they provide a spa-like feel, but they also create a focal point in the room. Consider adding a clawfoot or pedestal tub to give your bathroom a classic and elegant look.
Install a walk-in shower
Walk-in showers are perfect for those who prefer a more spacious and open feel in their bathroom. Consider installing a large walk-in shower with multiple showerheads or rain showerheads for an even more luxurious experience.
Choose statement tile
Make a statement in your bathroom by choosing bold and unique tile. From geometric patterns to colorful mosaics, statement tile can add a pop of personality and create a focal point in the room.
Upgrade your vanity
The vanity is often the focal point of the bathroom, so why not make it a stylish one? Consider upgrading your vanity with a new countertop, modern sink, and stylish hardware.
Add natural light
Natural light can make a huge difference in the look and feel of your bathroom. Consider adding a skylight or larger window to bring in more natural light and create a brighter, more inviting space.
Incorporate storage
Bathrooms can quickly become cluttered with toiletries and towels. Incorporate storage solutions like built-in shelving, medicine cabinets, or a vanity with drawers to keep your bathroom organized and clutter-free.
Choose a statement fixture
A statement fixture like a unique chandelier or modern pendant light can add a touch of glamour and personality to your bathroom.
Add a heated floor
Who doesn't love stepping onto a warm floor on a cold morning? Consider adding a heated floor to your bathroom remodel for an added touch of luxury and comfort.
Go for a minimalist look
Sometimes less is more. Consider a minimalist bathroom remodel with clean lines, a neutral color palette, and simple fixtures for a modern and chic look.
Create a spa-like atmosphere
Transform your bathroom into a spa-like oasis with soothing colors, soft lighting, and relaxing features like a whirlpool tub or sauna.
In conclusion, a bathroom remodel can transform your daily routine and add value to your home. Whether you're looking to create a luxurious spa-like oasis or update your outdated bathroom, there are endless bathroom remodel ideas to choose from. Consider incorporating one or more of these inspiring ideas to create the bathroom of your dreams.